Commercial Collection Agency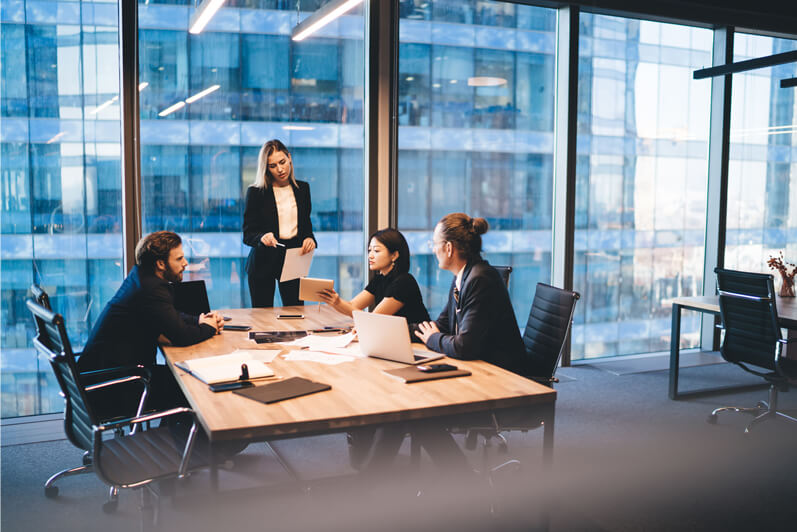 B2B Collection Agency Serving Clients Nationwide
Your business needs to receive income in order to continue paying the bills regardless of the industry. When customers, clients, or patients continue to refuse invoices and payment requests, you need commercial debt collectors to intervene. Empire Credit and Collection is a BBB accredited commercial collection agency with an 82% success rate on business-to-business debts. We will match any of our competitor's rates, and your business will not pay us a dime until we successfully recover your commercial debt.
Protect Your Receivables During Uncertain Economic Times
Businesses globally face uncertainty and volatility in today's economic landscape. We understand the increased importance of cash flow and reduced receivables during this unpredictable time and are here to help. Protect your business now by contacting our expert debt collectors for a quick quote.
Your Solution to Overdue Accounts
Delinquent accounts can take a toll on your business, but there's no reason that they should put your business out of commission. Why should you accept a loss when there are viable solutions at your disposal that can help you receive the money you've earned?
If someone owes you money, get a

Quick Collection Quote

Today!
By clicking "submit", I consent to join the list and receive SMS from ECC Holdings, Inc, with access to our latest offers and services. Message and data rates may apply. Message frequency varies. More details on this are in our Privacy Policy  and Terms and Conditions . Text "HELP" for help or contact us at +1(631)-251-7500. Text "STOP" to cancel.
What is a Commercial Collection Agency?
A commercial collection agency, or B2B collection agency, works to recover money on your behalf from another business. Instead of dealing with an individual consumer, a commercial collection agency works to collect debts from businesses with a corporate structure where the purpose of the debt was business-related (i.e. buying inventory, job materials, etc.). At Empire Credit and Collection, we're here to assist businesses that have no further recourse in collecting debts that are owed to them. As a well-established collection agency with years of experience and an unparalleled success rate, we understand how to navigate this complicated (and often, fruitless) process. Our team of experienced collectors has dealt with innumerable clients over the years, working with various clients nationally and internationally in different industries. Through our network of collection specialists, we are able to offer coverage anywhere in the United States and have a highly in-depth understanding of the process. We pair this time-tested conventional skill with the best technology in the industry to bring you your money back. We have a No Recovery, No Fee collection process with an 82% success rate.
Each Job Requires a Unique Approach
All commercial clients are different so the B2B debt collection process must be different as well. Every industry has a unique set of challenges they must overcome, which are usually based off of the terms that are offered to their clients/customers. These terms vary due to different industries, company sizes, and business cultures/personalities. For example, engaging with a small construction company is going to be different than a large fashion house. Here are some of the different types of terms offered by businesses:
Net terms 30/60/90 or when an event happens closing or funding
Check on Delivery (C.O.D.)
Half down, half on completion: construction, web development, etc
Insurance/patient responsibility: medical, dental, etc.
Credit card on file: memberships or clubs
Quote or estimate: proposed pricing breakdown, often including product pricing and/or timeline of services
Recurring: for ongoing services such as subscriptions
Judgment: you have been awarded a ruling against your debtor in court
Can a Business Be Sent To Collections?
Yes they can. Often, business accounts take advantage of the credit accounts given to them by commercial clients. This is because they see themselves as too valuable to the commercial client to be put in collections or to be pursued legally. The client becomes too concerned with affecting the relationship to ask for the money, but when they finally reach out to a commercial collection agency it's sometimes too late.
---
Tried & True Commercial Collection Methods
With our qualified and experienced team, we can recover the B2B debt and overcome these challenges on your behalf, allowing you to continue your normal day-to-day life without further complications. We approach each commercial debt collection with a clear and tailored plan to recover your money as quickly as possible. Our team does not believe in cookie cutter solutions and are able to be agile in our approach and our methods. At Empire, we are able to investigate the best point of contact and contact method for collection from a business. For example, when dealing with proprietorships consulting with the owner is best, but if our client is owed money by a corporation, then speaking to the accounting or finance department is ideal. Regardless of the size, structure or company in question, our commercial collection specialists will ensure that you receive your debt or you owe us nothing. We will utilize strategic and effective collection techniques to help you receive your hard-earned money.
Sometimes, It Takes a Simple (But Firm) Push
When clients reach out to us, we often hear the same pain points in their own attempts to reach out regarding the debt. The most common reasons that lead our clients to us are:
No Response. The client does not know why the debt is not being paid. This is because the client does not have the capabilities or bandwidth to continuously attempt to reach out to the debtor or because the client's letters and phone calls to the contacts have gone unanswered.
No money. The debtor is claiming they do not have the money to pay or they are waiting for the money to come. Our client is low on the debtors priority list whilst other bills are being paid by the debtor.
Dispute in the quality of work. Creditors are not always aware of this type of dispute without further communication from the debtor. Debtors may see this as an over-promise-under-deliver or they may be customers that will never be happy with the outcome.
When contacted regarding a delinquent account, some businesses are immediately responsive. Rather than immediately employing aggressive tactics, we always begin our collection efforts with consistent and firmly worded letters. Our collectors approach each job with the same commitment and dedication, regardless of the amount of money involved. When businesses are not as responsive, we may shift our approach to the more aggressive tactics. In order to collect from more reluctant accounts, our results-driven collection agents will channel efforts through the next phase of our commercial debt collection phase. If necessary, we'll turn to the legal system to produce results.
When Should a Client Hire a Commercial Collection Agency?
Does your business have an open account? If so, stop wasting time. Older balances become harder to collect due to varying reasons which include: a business ceases to exist, the debtor files bankruptcy, proof of delivery is unavailable, misplaced documentation, or department turnover. The likelihood of a successful commercial debt collection lowers with every month that passes.
After 1 month = 94%, success rate
After 2 months = 85% success rate
After 3 months = 74% success rate
Risk tolerance will be the ultimate deciding factor in when to reach out to a commercial collection agency, however, once an account hits 90 days past due we suggest showing some escalation of attention towards the delinquent account.
If someone owes you money, get a

Quick Collection Quote

Today!
By clicking "submit", I consent to join the list and receive SMS from ECC Holdings, Inc, with access to our latest offers and services. Message and data rates may apply. Message frequency varies. More details on this are in our Privacy Policy  and Terms and Conditions . Text "HELP" for help or contact us at +1(631)-251-7500. Text "STOP" to cancel.
Why Empire For Your Commercial Collection Accounts?
Our collection agents work diligently and efficiently to take any actions necessary for your debt recovery. If our efforts are unsuccessful, we won't charge your company a dime. We do not believe in taking a cookie cutter approach to our clients and will tailor a program for you. Empire's full service options include: pre-litigation collections, post litigation, gentle collections, or aggressive paced collections. Our 3 phase process for commercial debt collection covers all avenues of collection attempts:
Phase 1 letters, phone calls, voicemails, emails, and text messages.
Phase 2 includes correspondence from a local attorney and credit reporting about your debt.
Phase 3 when you get to go in front of a judge and be awarded a judgment from a court, even enforce it against people's bank accounts to make them pay.
Our experienced team is motivated by positive results; we don't like working for free and we know our clients don't either. Empire is used to both experienced clients, as well as those with less experience who may need additional guidance with B2B debt collection. Empire can take a soft-friendly approach or take a more aggressive stance. Our commercial collection agency is boutique, and will assign a dedicated agent to you who can go in depth using private-investigator tactics with a full-service collection agency behind them. If we can't get you paid, you owe us nothing for our time, efforts, and resources.
---
How To Get Started
If a business owes you money, get a free collection quote today or speak to one of our collection specialists today by calling 877-659-5986. For a higher probability of recouping the money owed to you without any additional delays, it's pertinent to provide us with as many details about the debtor as possible when submitting an account:
Contact Information

Names (including nicknames, maiden names, etc.)

Addresses

Telephone Numbers (home, cell, work)

Email Addresses

Names of his / her spouses, friends, relatives, and neighbors
The debtor's response from any efforts you made to collect
Specifics of the original agreement with the debtor
Paperwork relevant to original agreement (permits, applications, contracts, etc.)
How Quickly Can I See Results?
We can get you paid the same day as placement in some instances, however, every case is different. In some instances a single phone call or letter from a collection company is all it takes to recover a payment. In other instances a debtor needs to be chased for months, and even years. We are committed to continuing the collection process for as long as the law allows us to. Every state has a statute of limitations on civil liability and Empire commercial debt collections will try to recover the debt as long as legally possible as stipulated by local guidelines.
How Do I Get My Money After It Has Been Collected?
Once funds are collected and pass the clearance process (i.e the debtor does not do a chargeback or the check bounces), we either forward out a check to the client's address or an ACH payment directly to an account of their choice. This is done monthly on or around the 1st of every month.
If someone owes you money, get a

Quick Collection Quote

Today!
By clicking "submit", I consent to join the list and receive SMS from ECC Holdings, Inc, with access to our latest offers and services. Message and data rates may apply. Message frequency varies. More details on this are in our Privacy Policy  and Terms and Conditions . Text "HELP" for help or contact us at +1(631)-251-7500. Text "STOP" to cancel.
Coast-to-Coast Results
Empire's national debt collection services have been helping American businesses collect commercial debt for decades through our trusted network of 400+ affiliate attorneys and agencies. Our service areas include, but are not limited to: Atlanta, Austin, Boston, Charlotte, Chicago, Cleveland, Dallas, Denver, Detroit, Houston, Indianapolis, Kansas City, Los Angeles, Miami, New York City, Oklahoma City, Phoenix, Portland, Sacramento, San Antonio, San Diego, San Francisco, San Jose, Seattle, Tampa and many more. We understand that debt recovery professionals are an extension of your company's reputation. At Empire Credit and Collections, our collectors conduct themselves with the highest degree of professionalism. Our commercial collection agency will utilize decorous measures to recover this debt, and refrain from permanently severing any ties. Our extensive network of B2B debt collectors, collection attorneys and professionals allows us to maintain a high standard of success. Ready to start the process? Get a free collection quote online or give us a call at 877-659-5986 to speak to a collection specialist today.
---

Mary H.
★★★★★
I have been desperate in saving our company from a lot of trouble that comes with collecting money owed by our purchasers. Until I found out that it's easier to find a sensible solution and a third party to collect it for us. Success rate is satisfying. I highly recommend!


---
James L.
★★★★★
The representative, Ron, was absolutely wonderful! He seemed very dedicated toward receiving my business and helping me to set-up our collections account. Ron was very knowledgeable and efficient in the way he was able to walk me through sending over our collection invoices. I would highly recommend Empire and Ron to anyone who needs help with collecting on overdue accounts.


---
Rob A.
★★★★★
We've been working with Melissa L. for several months now and the process and communication has been wonderful. We don't send a significant amount of business to Empire, but when we do, we get results. Exactly what we needed.


---